C-Stores & Vending Services
VENDING SERVICES- All 20 oz. Coke and Pepsi only now only $1.50. All vending services are operated by Canteen Corporation and are located inside/outside of buildings around each campuses. As an added way to budget, parents and students can add funds to the Canteen Connect APP (https://www.canteen.com/get-in-touch/connect/ ) which is accepted on most machines and helps in budgeting. Cash and Credit/Debit is also available to use on most vending machines. Please direct all inquiries about vending services to your campus stores.
CAMPUS STORES - Fueling Every Titan's Success in the Classroom - The Campus Stores offer food, snack and beverage items in all 5 campus locations. Stop in for a hot cup of coffee at our Keurig Bar or grab a quick energy drink to get you through that afternoon class. We offer many items based in NC. As part of our store fundraiser for student endeavours we also offer Subway-To-Go box lunches at the Jamestown store and Chick-Fil-A catering items at the Greensboro and Jamestown campus stores.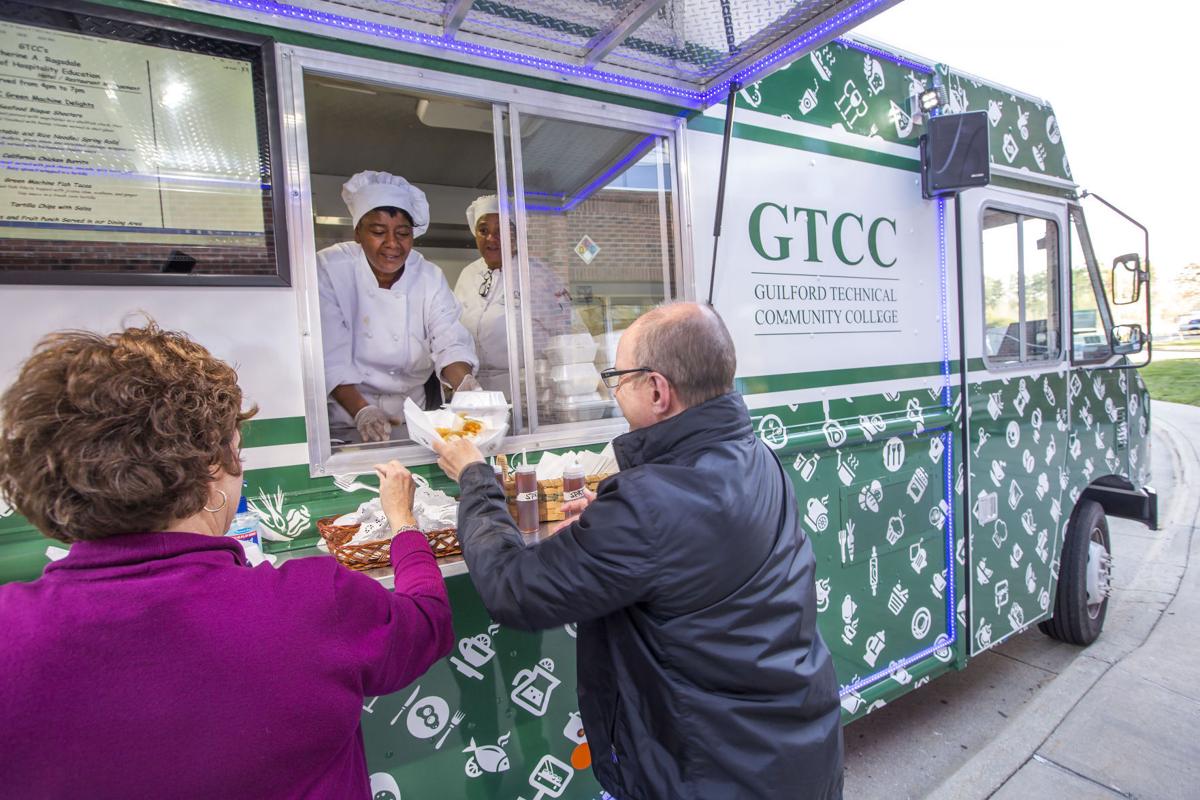 GREEN MACHINE FOOD TRUCK- The GTCC Culinary Dept. operates a food truck with great, quick food at affordable prices every semester at GTCC Campuses on select dates. Check their website for menus, dates, locations and times. The Green Machine is a teaching and learning lab and features students serving students and the community. Any proceeds cover the cost of the food and supplies and support the Culinary Club at GTCC.
Campus Information

Menu

9/25/2019 Aviation Campus

260 N. Regional Rd., Greensboro, NC 27409

11am – 12pm

Specialty Wings or Philly Cheese Steak with Potato Wedges & Drink

10/02/2019 Aviation II & III Campuses

1053 Old Stage Coach Trail, Greensboro, NC 27409

819 Rador Rd., Greensboro NC 27409

11am – 12pm

Chicken Wrap with Sweet Potato Fries or Fried Fish Sandwich with Slaw & Drink

10/09/2019 High Point Campus

901 S. Main Street, High Point, NC 27260

9am – 10am

Leadership Grab & Go Breakfast Menu

10/23/2019 Advanced Mechanical Campus

6012 Building

11am – 12pm

Smoked Brisket Slider with Plantain Fries or Pork Spare Ribs with Mango Slaw & Drink

10/30/2019 Jamestown Campus

601 E. Main St., Jamestown, NC 27282

11am – 12pm

Steak Slider or Jerk Chicken Wrap with Fries & Drink

Contact: Chef Rush – GTCC Jamestown Campus 336-454-1126 Ext. 50468

***Pricing, Menu, and Schedule are subject to change
KOURY HOSPITALITY DINING - GTCC's Culinary Arts and Hotel-Restaurant Management teaching/dining room are located in the Koury Hospitality building on the Jamestown Campus. GTCC invites the public to "come to class" on Tuesdays and Thursdays at 12 p.m. for lunch and Thursdays at 7 p.m. for dinner. Lunch is $7.00 per person and dinner is $9.00. (subject to change) Online reservations required. In the fall semester, the Faculty and Students offer classical cuisine and in the spring semester a global cuisine. Students learn through real world experience, and they work to ensure every guest has a wonderful dining experience. The cost of the meal covers only the supplies used to create it. Students in each class rotate through various positions, including server, student dining room manager, cashier, bus person, back waiter, chef of the day, and more.